Classic Car Restorations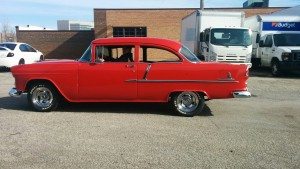 While transmissions and engines are our bread and butter, our speciality is in classic car restorations. With these projects we understand that it's more than just cleaning and repairing what's under the hood–it's about achieving a satisfying feel and purr. We love tuning up every machine for optimized performance and authenticity.
In the antique auto repair business, you don't achieve longevity if your work's anything short of perfection. We are proud of our history of partnering with classic car owners in Elk Grove Village and surrounding areas, and look forward to restoring many more vintage vehicles in the years to come.
Don't forget to view our previous classic car restorations.
Contact Us
Talk to us about restoring your vintage automobile. Send us a message or call us at 847-437-4700.
Classic auto restoration in Elk Grove Village, Hoffman Estates, Schaumburg, Mt. Prospect, Arlington Heights, Rolling Meadows, Des Plaines and Bensenville IL.